Continuity and Recovery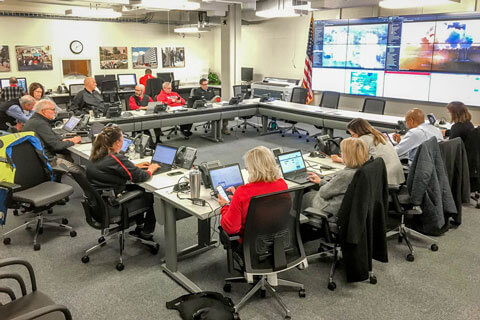 After a significant emergency takes place and everyone is safe, focus transitions to continuity. What is continuity? Sometimes known as business continuity, continuity of operations, or institutional continuity, all refer to the ability of the University to continue providing critical services in the wake of a major incident, even if those services are provided at a diminished capacity.
Examples of continuity activities might include:
Feeding residents after a tornado destroys a dining center
Housing residents after a fire renders a residence hall uninhabitable
Conducting research after a hazardous materials incident renders a laboratory space unusable
Teaching classes after a large segment of campus sustains a prolonged power outage
Paying employees after a major cyber incident renders core IT systems inaccessible
Staffing a department after a pandemic incident sickens most employees
A Continuity of Operations Plan (COOP) addresses these topics and covered a short to mid-term range (roughly 1-30 days). A full recovery plan covers facility rebuilding. This plan is a part of the University's emergency management program. For more information, contact Emergency Management.
IT Disaster Recovery
A primary enabler of University Continuity rests on our ability to restore key Information Technology Services. University IT leadership has charged an IT Disaster Recovery Advisory Board to lead the development and testing of a comprehensive IT Disaster Recovery Plan. This plan will identify key IT services to be restored after a major emergency, including references to procedures to carry out those restorations.
The Advisory Board is chaired by Rachal Roach from Technology Solutions.