Incident Management Team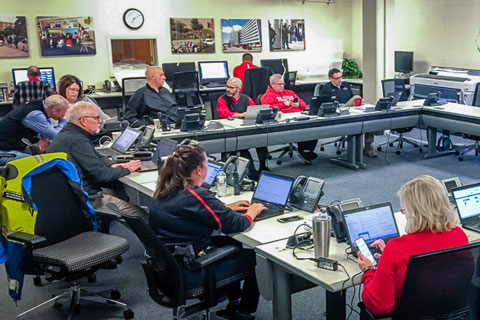 The Incident Management Team is the University's lead body in coordinating the response to significant campus emergencies and disasters. The team may also be convened to coordinate the response to a large-scale planned event. The IMT is a modular team that has three levels of activation. These levels are designed to assign the appropriate number and type of resources based on the scope and complexity of the incident.
The team coordinates with on-scene public safety personnel, with on-scene ISU emergency response teams, with the President's Cabinet and with local, regional and statewide emergency operations centers.
There may be occasions when members of the IMT cannot physically report to the Emergency Operations Center (EOC). In addition to a fully-functional backup EOC agreement with the Town of Normal, ISU also has a virtual EOC capability. The team utilizes an off-campus hosted application (Veoci) that is specifically designed to support EOC operations, regardless of where its members reside.
The University Emergency Manager leads this team. Contact the Emergency Manager for more information.