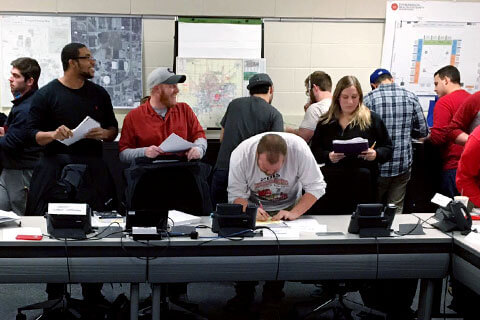 Careers in Emergency Management
Interested in the field of emergency management? Emergency Management is a unique discipline within the public safety family. It deals very little with the tactics of life safety, and far more with the coordination of complex situations. Emergency managers are generally adept at wrapping their arms around fast-paced, dynamic situations while maintaining a calm and outcome-focused demeanor. Effective EMs also have to be comfortable in delegating, developing creative solutions, promoting collaboration, diffusing conflicts and keeping the big picture in mind.
Emergency Management as a practitioner discipline came to the forefront in 1979 when the Carter administration created FEMA. Emergency Management as an academic discipline took shape after the 2001 terrorist attacks. As the industry continues to define itself, a wide range of opportunities exist to join organizations, receive formal training and obtain certifications and degrees.
This page includes resources to help you get involved (especially locally) and find opportunities to grow in this discipline.
Organizations
ISU Emergency Services Club

McLean County Emergency Management Agency (EMA)

Illinois Emergency Services Management Association (IESMA) - $15/year student rate

International Association of Emergency Managers (IAEM) - $45/year student rate

IAEM Student Chapters - Various EM-related student chapters around the nation
Getting Involved
CERT (future)

McLean County EMA - McLean County EMA manages 3 volunteer teams (Operations, Incident Communications and Search & Rescue) and is always looking for interested new members
Training
FEMA Independent Study - Hundreds of on-line, self-paced courses in the field of emergency management

IEMA classroom training - Dozens of classroom-only courses; several are held every year in Bloomington-Normal

IFSI classroom training - The Illinois Fire Service Institute conducts many command-level courses. Scroll down until you find "Homeland Security"
Certifications
FEMA Professional Development Series - Pass 7 on-line, self-paced courses and you will automatically receive this certification from FEMA

IEMA Professional Development Series - Builds atop FEMA's PDS by requiring attendance to several in-person courses

IEMA Illinois Professional Emergency Manager - Builds atop IEMA's PDS by requiring written essays and proven time within several EM areas

IAEM AEM/CEM brochure - Brochure outlining the two international certifications - Associate and Certified Emergency Managers

IAEM Certified Emergency Manager - the industry's top certification
Conferences & Professional Development
Illinois Emergency Management Training Summit - Annual conference held in Springfield during the three days following Labor Day; currently no admission costs

Best Practices in Higher Education Emergency Management - Small (100 person) conference of EM practitioners in higher education

IAEM Annual Conference - the largest EM conference in the world; student rate
EM Higher Education
FEMA's Higher Education College List - FEMA maintains the definitive list of colleges and Universities offering certifications and degrees in EM
EM Employment
GIS in Emergency Management
IS-922: Applications of GIS in Emergency Management - Free, on-line course that provides an overview of how GIS can support emergency management

IS-103: GIS Specialist - Free on-line course that provides an introduction into GIS usage during disasters

E0190: ArcGIS for Emergency Managers - Free, 3-day in-residence course at the Emergency Management Institute covering how to use both ArcGIS and HAZUS-MH