Get Involved in Emergency Management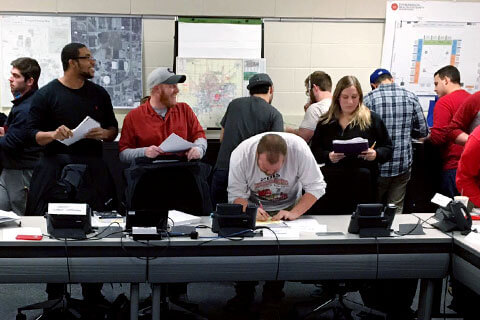 Interested in the field of emergency management? Emergency Management is a unique discipline within the public safety family. It deals very little with the tactics of life safety, and far more with the coordination of complex situations. Emergency managers are generally adept at wrapping their arms around fast-paced, dynamic situations while maintaining a calm and outcome-focused demeanor. Effective EMs also have to be comfortable in delegating, developing creative solutions, promoting collaboration, diffusing conflicts and keeping the big picture in mind.
Emergency Management as a practitioner discipline came to the forefront in 1979 when the Carter administration created FEMA. Emergency Management as an academic discipline took shape after the 2001 terrorist attacks. As the industry continues to define itself, a wide range of opportunities exist to join organizations, receive formal training and obtain certifications and degrees.
This page includes resources to help you get involved (especially locally) and find opportunities to grow in this discipline.
Organizations
Getting Involved
Training
Certifications
Conferences & Professional Development
EM Higher Education
EM Employment
GIS in Emergency Management